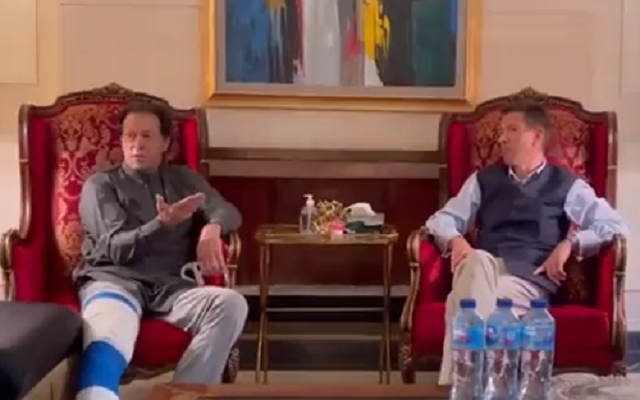 Former prime minister and PTI chairman Imran Khan has assured British High Commissioner Christian Turner that his party's protest rally or sit-in will not affect the Pakistan-England Test match scheduled to be held in Rawalpindi on December 1.
برطانوی ہائی کمشنر کرسچین ٹرنر کی زمان پارک میں چئیرمین تحریک انصاف کی رہائش گاہ آمد

چئیرمین تحریک انصاف عمران خان سے ملاقات

چئیرمین پاکستان کرکٹ بورڈ رمیز راجہ اور مرکزی سنئیر نائب صدر چوہدری فواد حسین بھی موجود
1/3#ImranKhan pic.twitter.com/rhhfISicmu

— PTI Azad Kashmir (@PTIAJK_Official) November 22, 2022
The PTI sought permission from the Islamabad administration on Monday to allow it to proceed from different routes of Islamabad to reach Faizabad in Rawalpindi.
Although the application does not clearly state whether it will be a one-day gathering or a sit-in, the intention is clear that the November 26 rally can be converted into a sit-in.
The British high commissioner and Pakistan Cricket Board (PCB) Chairman Ramiz Raja called on the former premier at his Zaman Park residence in Lahore and inquired about his health.
Also read: PTI to stage sit-in at Faizabad on Nov 26
The British high commissioner condemned the assassination attempt on the PTI chief and expressed his best wishes for his speedy recovery.
Imran Khan asked the PCB chairman and the British diplomat to continue their preparations for the match, saying his movement will not affect the 5-day match.
Senior PTI leader Fawad Chaudhry was also present in the meeting.
چئیرمین پی سی بی کی جانب سے قذافی سٹیڈیم کی لیز کے حوالے سے عمران خان کو بریفنگ عمران خان کی انگلش ٹیم کے دورہ پاکستان کے دوران بہترین سکیورٹی انتظامات یقینی بنانے کے حوالے سے پنجاب حکومت کو ہدایت. انگلش کرکٹ ٹیم کے دورہ پاکستان کے حوالے سے نیک تمنائوں اور خواہشات کا اظہار
3/3

— PTI Azad Kashmir (@PTIAJK_Official) November 22, 2022
England have not played a Test match in Pakistan since 2005 — having declined to tour since because of the country's precarious security situation — but played a successful Twenty20 series earlier this year.
They are due to arrive in Islamabad on November 26, with the first Test in Rawalpindi from December 1-5.