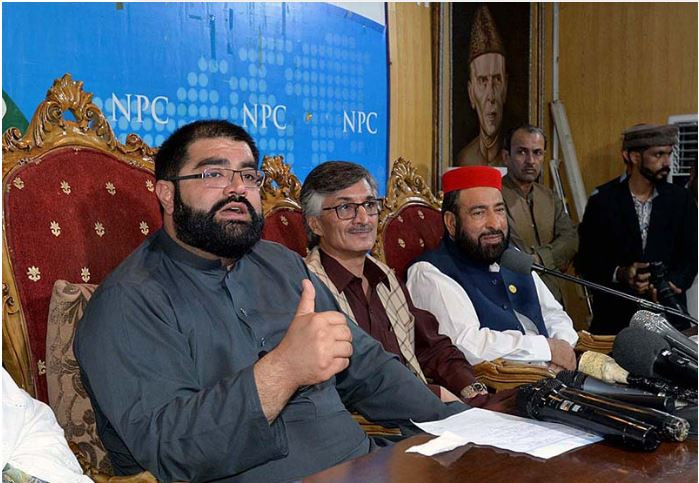 PESHAWAR:

ANP Provincial President and Parliamentary Board Chairman Aimal Wali Khan has announced the names of candidates for polls after the announcement of the dissolution of the Khyber Pakhtunkhwa (K-P) Assembly.
He announced the names of the candidates for the provincial constituencies of Buner while addressing a youth convention of metropolitan Peshawar in Bacha Khan Centre, Peshawar.
He said that Sardar Hussain Babak is the candidate for PK-25 (PK-22), Qaisroli Khan PK-24 (PK-21) Afsar Khan PK-23 (PK-20), Samar Harun Bilour PK-81 and Yasin Khalil for PK-77 (PK-74).
ANP nominated Abidullah Yousafzai from PK-80, Arsalan Khan Nazim from PK-78 (PK-75), Dr Naveedullah Khan from PK-79 (PK-76) and Haji Siddique Afridi from PK-76 (PK-73).
It is worth mentioning here that on Saturday, PTI Chairman Imran Khan announced December 23 as the date for the dissolution of the Punjab and K-P's legislative assemblies, and to go to the National Assembly (NA) to confirm their resignations.
On Sunday, while addressing the youth convention, the provincial president said that Imran should dissolve the assemblies tomorrow.
"We are ready for elections, you should dissolve the assemblies tomorrow and announce the elections, I will announce the candidates today," he remarked.
He claimed that even though Imran has announced it, he will not dissolve the assemblies. He accused the PTI chief of bringing shame to Pakistan in the entire world.
"The world will say that these are people who do not value gifts. They call others thieves, they themselves are the biggest thieves, they ruined Punjab and destroyed the country's economy, and today they want to run away," he lashed out.
The ANP leader said that the path of undemocratic forces was blocked by the 18th Amendment.
"What is the reason for the dissolution of the assembly, the axis of power of the people? What is the reason that those who have taken the chair should be brought back?" he asked
"A liar like Imran Niazi has never been found in history; where is the constitution and law in Pakhtunkhwa? Who will investigate BRT, Malam Jabba? Who will respond to the destruction of hospitals by the MTI Act? Constitution and law were destroyed in Pakhtunkhwa," he continued.
Aimal said that the preparations to make K-P "a field of terrorism and war" are going on "vigorously".
"Attacks are happening on police personnel every day, people are getting martyred but there is silence in the corridors of power, there were hundreds of attacks on the police in this year, in which 105 police personnel have been martyred," he said. "This year has been the worst year for Pakhtunkhwa in which targeted killing has reached its peak."
He said that they have made it clear that they will not allow the land to be used for terrorism.