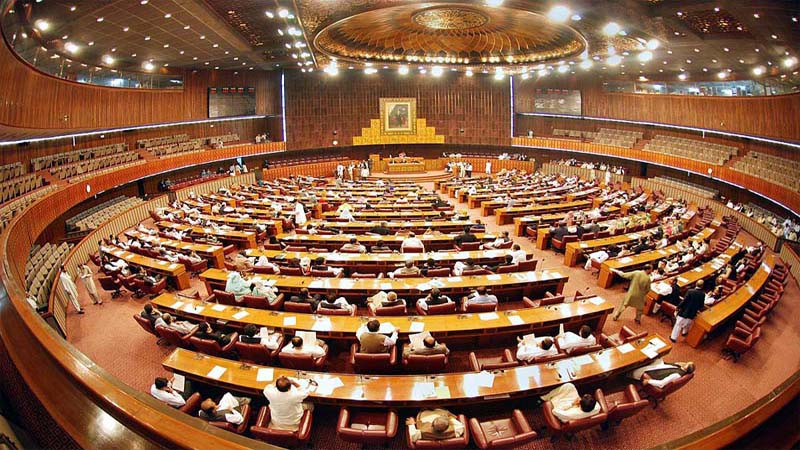 The Pakistan Tehreek-e-Insaf (PTI) on Monday decided to boycott the joint session of Parliament to be held on Tuesday, informing all party senators about the move.
According to Express News, no senator of PTI would participate in the session scheduled to be held at 3pm Tuesday. Despite this, a 21-point agenda has been issued about the session.
According to a notification issued by the National Assembly Secretariat, the joint session had been rescheduled by the Speaker in exercise of the powers conferred by proviso to Rule 4 of the Parliament (Joint Sittings) Rules, 1973, states:
"The speaker shall determine when a joint sitting shall be adjourned sine die or to a particular day, or to an hour of the same day: provided that the speaker may, if he thinks fit, call a joint sitting before the date or time to which it has been adjourned or at any time after the joint sitting has been adjourned sine die."
The present National Assembly had come into existence following the 2018 general elections.
Read more: Imran throws Punjab, K-P gauntlet
The development comes days after former prime minister Imran Khan revealed that the party would dissolve assemblies in Punjab and Khyber-Pakhtunkhwa on December 23 (Friday), staking his hard-earned political ground on a bid to trigger early elections.
It is pertinent to note that the clear deadline, earlier than scheduled, from Imran – who took considerable time in consultations before announcing it – came after days of reported parleys to bridge the thorny gulf between the government and the PTI failed to yield any wins.
The PTI chief had sprung the surprise to dissolve his provincial governments in an apparently proverbial 'burn-the-boats' decision last month at a Rawalpindi rally.
But, in a major development on Monday, the Pakistan Muslim League-Nawaz (PML-N) and Pakistan People's Party (PPP) — the opposition parties in the Punjab Assembly — submitted a no-confidence motion against the PTI-allied Punjab Chief Minister Chaudhary Pervaiz Elahi in an attempt to thwart Khan's bid to dossolve the Punjab assembly and trigger early elections.
Following the development, Governor Punjab Muhammad Balighur Rahman summoned a session of the assembly on December 21 (Wednesday) in which CM Pervaiz Elahi would seek a vote of confidence from the provincial legislature.
Historically, polls for the federal and provincial governments are held at the same time in a general election every five years. If the two provincial assemblies are dissolved earlier, separate polls would have to be held for them within 90 days, which could throw up legal problems.
Observers reckon that if the former prime minister manages to win elections of the two assemblies, the victory will pave a way for his return to office in the next general elections to be held in October 2023.