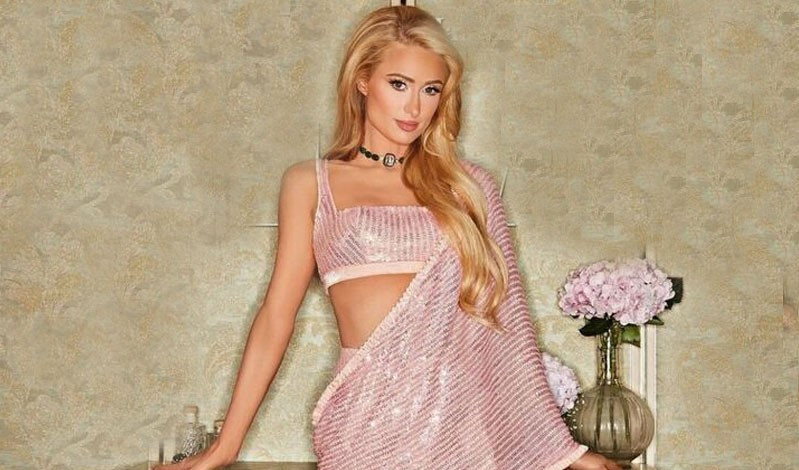 After dressing the likes of Hollywood stars Michael Jackson, Lady Andrew Webber, Naomi Campbell, Jean Claude Van Damme and Sharon Stone, ace Indian designer Manish Malhotra has lent his sartorial expertise to Hollywood beauty Paris Hilton.
Hilton was spotted draped in a gorgeous baby pink sari on the cover of Harper's Bazaar India. Malhotra took to Instagram on Monday to share his latest achievement. "That's hot," he captioned the post referring to Hilton's popular catchphrase. "Our 'My MM' saree on the incredibly striking Paris Hilton, illuminated in our signature embellishment, sequins, and hued in her beloved colour, pink."
Keeping her long blonde and straight locks open, the diva kept her makeup minimal with a nude lip, some kohl and mascara on the eyes and a subtle rosy cheek. To accessorise, she only wore a black statement choker to bring contrasting attention to the outfit. With a boat neck sleeveless blouse, Hilton draped the nine-yard cloth over her shoulders while leaving space for a slit.
 
The magazine got a hold of the influencer while she was in town and spoke to her about her scent, the infamous catchphrase 'That's hot' and her evolved views on life, social media and love.
About what the catchphrase means to her now, Hilton said, "'Hot', to me, is different from what it meant when I was younger. Today, I think legislation is 'hot'—all the things that I'm doing on Capitol Hill in Washington DC, standing up for other people, making a difference and impact in the world, and really just carrying on my family's legacy of philanthropic work.  I think that's what's 'hot'."
Hilton made headlines when she visited India in October this year for the launch of her perfume, Ruby Rush. The 41-year-old artist loved the culture and was seen dressed in ethnic outfits for most of her trip.