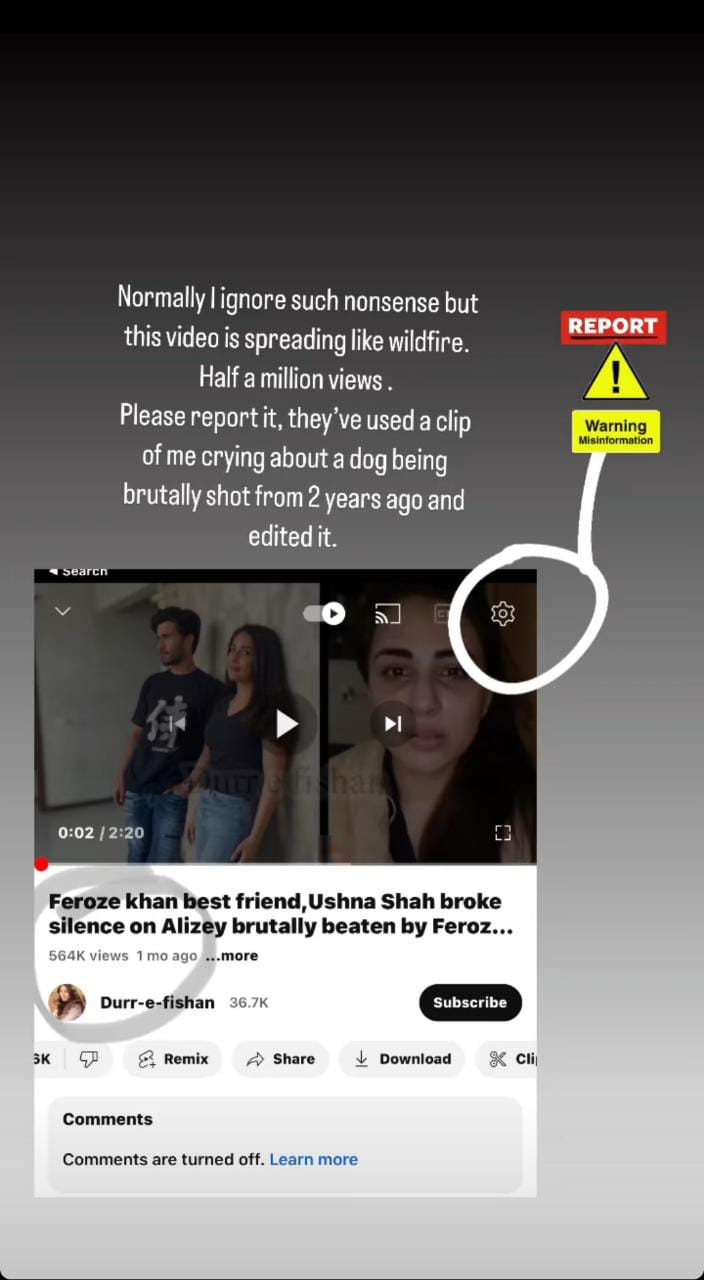 In the era of deepfakes and doctored videos, it's much easier for celebrities to fall victim to fake news and clickbait journalism. For only a quick buck and virality, some people use digital tools to put forth falsified narratives that instantly make rounds on the internet.
Lately, actor and activist Ushna Shah has become a target of the same and in response called out a YouTube channel for uploading a fake video of her addressed to her Habs co-star Feroze Khan and his ex-wife Aliza Sultan's domestic violence case.
Taking to Instagram, Shah shared a screenshot of a YouTube video titled, 'Feroze's best friend, Ushna Shah breaks silence on Aliza's [alleged] abuse'. With a warning sign, the Parizaad actor requested everyone to report the aforementioned clip as it was fabricated and spreading misinformation on the internet.
Shah also captioned the post with a note explaining her action. She wrote, "Normally I ignore such nonsense, but the video is spreading like wildfire. Half a million views!"
She then proceeded to highlight the origin of the footage used in the clip. "Please report this. They have used a clip of me crying about a dog being brutally shot from two years ago and edited it," clarified the Habs actor.
Although the video now seems to be removed, the detrimental usage of social media continues. Just last week, Hadiqa Kiani took to her Instagram Story and requested her fans and followers to report a Twitter account impersonating her and posting "horrific" photos of children. "Someone using the name @HadiqaKiani0 is impersonating me on Twitter. Please report," she wrote.
Have something to add to the story? Share it in the comments below.